Are you looking for a really classy way to celebrate your wedding, anniversary or another festivity? Why not hire an Oboe Band: the magnificent wind formation of the exquisite Louis XIV. Oboe bands abunded in France and Germany in the 18th Century and were formed of several oboists and bassoonists, sometimes also trumpet players and percusionists. Bands performed festive music in bigger spaces and could march at the same time as well.
The Oboe Band performs festive music from the era, but also arranges more current music, giving it a royal swish with its festive double-reed colour. In its smallest form there are 2 oboes, a tenor oboe and a bassoon.
More information soon to follow. Please contact me if you are interested to hear more.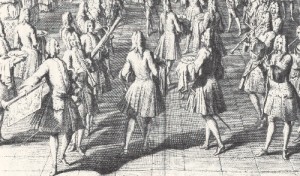 A Wind Band at the coronation of Louis XIV